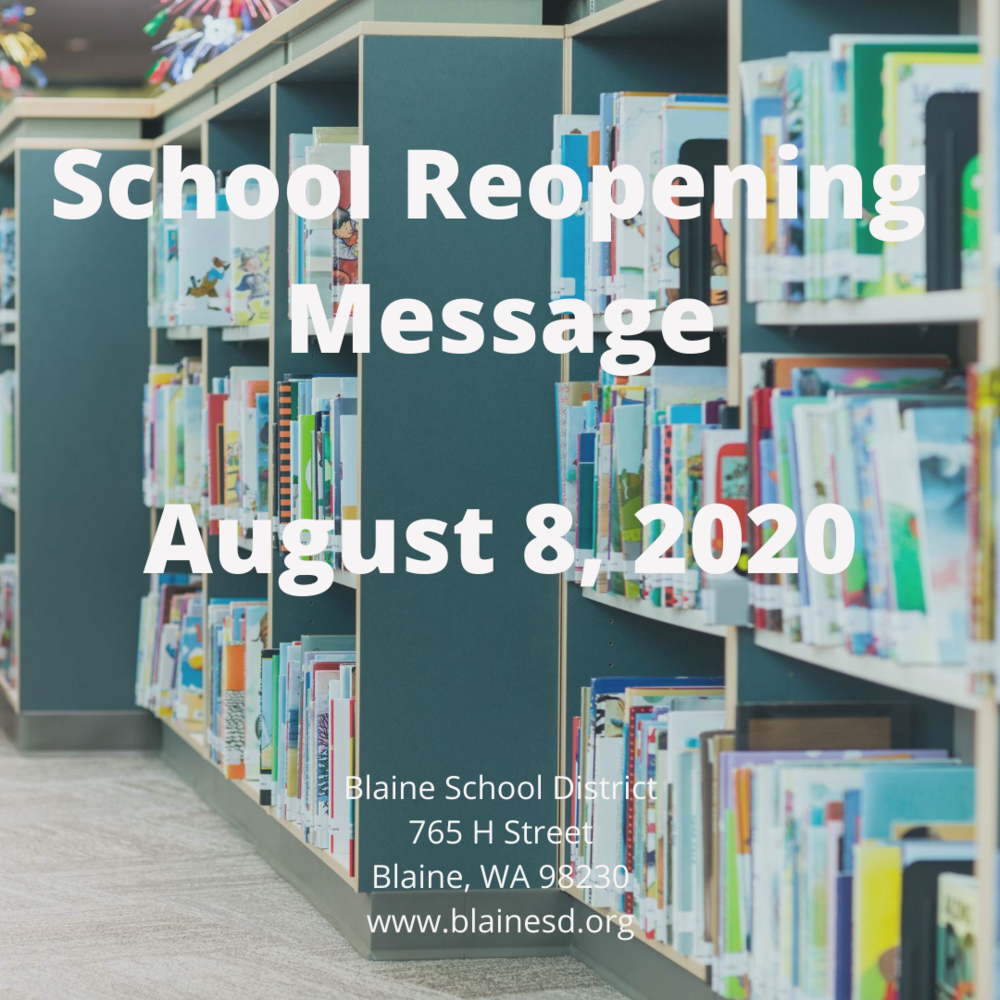 School Reopening Message August 8, 2020
Blaine School District
Saturday, August 08, 2020
Good evening students, staff, families and community,
Earlier this week the Whatcom County Health Department issued a letter to school district superintendents and an accompanying statement that schools should begin the 2020-2021 school year in remote learning. District staff met with the Blaine School District's Board of Directors on two occasions to discuss these new recommendations. They recognize the difficult position we are all in, balancing the needs of our students and families as well as the health and safety of all. Like our educators, they know the value of student access to the building. We as leaders in these positions expect to be tasked with making difficult decisions on a regular basis, but this decision has been especially trying as it is currently impossible to identify an ideal scenario. This decision will put families and staff in difficult situations, and it keeps us up at night as we consider the challenges ahead. Ultimately, however, the health and safety of our schools and community is our top priority. Therefore, this evening in a special board meeting, a plan was approved to begin the year with remote based instruction for all students.
We have spent the last few months engaging in conversations with families, staff and community members as we grappled with the decision on what to do about opening schools. I want to thank everyone who participated directly, or took the time to reach out to me by phone or email. Each student represents a family and community member that we hold near and dear to our hearts. The decision to begin the year remotely is not one we enter into without understanding the impact. We recognize that face-to-face is the best means to deliver instruction for all students, but we also know we have to be able to do that safely to protect our students, staff and community as a whole. We are committed to working with families to ensure the quality of experiences they have come to know and expect from the Blaine School District remain intact, even in a virtual environment. When it becomes possible, we will plan to bring small groups of students who require specialized instruction and services to the buildings.
This decision provides some clarity on where we will focus our attention as we begin the school year. We know we must provide a more robust offering than was available in the spring, when the pandemic closure and expectations of schools changed on us all so quickly. As we progress towards the start of school we will continue to communicate with you regarding items such as chrome book checkout, class assignments, and programs such as athletics, band, and choir. The planning and effort put into the hybrid model will remain in place as we work towards a phased-in return to the building. We hope you will consider joining us on Tuesday August 11, 2020 at 6:00 pm for our next virtual Community Question and Answer session.
In closing I want to let you know how blessed I feel to be the superintendent in the Blaine School District. I know there are challenging times ahead and my commitment to you remains that I will work to advocate for the students and staff of the Blaine School District. Together we will come out of this stronger and reunite our students and staff to our campus as soon as safety allows. This, now more than ever, remains our time to shine. It is a great night to be a Borderite, and, as always, a great night to be your Superintendent.
Sincerely,
Dr. Christopher Granger, Superintendent
Every Student. Every Day. In a New Way!