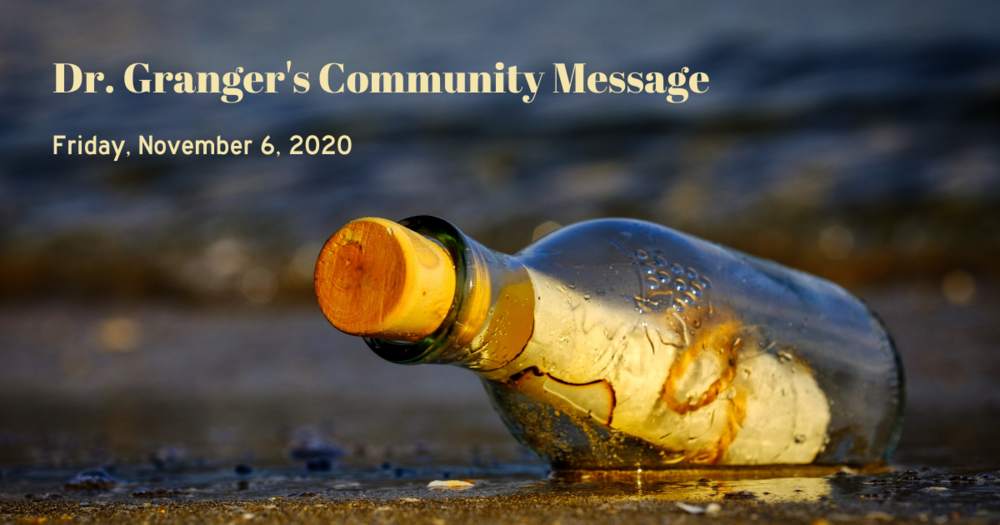 Superintendent's Message November 6, 2020
Blaine School District
Friday, November 06, 2020
Good evening students, staff, families and community,
How wonderful it was this week to welcome back our A Week students in 1st - 3rd grades, and we look forward to seeing our B Week students, beginning Monday, in those same grade levels. In addition, we continue to work in collaboration with our teachers and staff to prepare for 4th and 5th grade students in a short two weeks on November 23 as well as 6th and 9th grade students on November 30. We are also preparing to welcome the remaining grade levels back in a hybrid model on Monday January 4, 2021, should our county numbers stay in the moderate category range.
What We Need From You
As we plan for larger groups of students, we need your help. We have two important surveys for our families to complete (if you have not already done so);
Does your student require school bus transportation? https://forms.gle/1y4fMmVP1Qorzh9p6

Do you wish for your student to remain in an online only learning model? https://forms.gle/433i3MHaBWJYgD896 for
These surveys are for students in all grade levels. If you could please assist us in providing the best plan for a safe return by completing these surveys by Sunday November 15th, we would appreciate it.
Hybrid in Second Semester
On December 1st - 10th we will open a survey for those families who may wish to request a move from online to the hybrid model beginning at the start of the second semester, on Monday January 25, 2021. Due to the time needed to reschedule students and determine our space capacity in each grade level, we wanted to make sure this was on your radar for the beginning of December.
Attendance
In order to assist everyone in the process of taking attendance for asynchronous learning, we are now asking that students who complete work outside of their synchronous learning time (8:20 a.m. - 12:20 p.m.), to show their participation and count as their attendance for that day, add a private comment to the assignment for that day. This allows the teacher to receive a notification, making it easier to track. This would only be necessary to count for attendance if the student had not attended the Google Meet or Office Hours for that day. Remember, for 6-12 students, attendance is taken by period, just like it would be if the student was in the building.
This helpful video explains more about attendance and how to make a private comment on an assignment; https://youtu.be/IbXZYqWxh6Y
Skyward Family Access
If your student is coming to the campus soon and you don't have your Skyward Family Access login, please contact your student's school. You'll need it for a variety of things this year. These are just a few;
Student Daily Wellness Screenings

Bus Route Information

Scheduling Teacher Conferences
Food Service
Meal pick-up this coming week will be on Tuesday, November 10th, due to the Veteran's Day holiday. If you have not been picking up meals regularly but would like to participate for the first time, please contact Amber Porter. At this time we are preparing meals based on the number of people who have been coming, and we would want to ensure there are enough meals on hand for everyone.
Emergency Schedule Changes
With all students and staff now equipped to participate in remote learning, you can expect any emergency schedule changes to become days of remote learning for all, rather than closures. Decisions will still be made around the 5:30 a.m. time, and notifications will still be sent out via our app, website, and social media channels.
Coming Up
November 9 - Community Q & A at 6 P.M. (visit our website for login info)

November 11 - Veteran's Day (No School)

November 13 - Non student day (No student work)

November 20, 23, 24, 25 - K-8 Parent Conferences

November 26-27 - Thanksgiving Holiday (No School)
I know this message contains a lot of information this week, but there is a lot happening. A lot of good things are happening, and we continue to be grateful for our community and its support. It is a great night to be a Borderite, and, as always, a great night to be your superintendent.
Sincerely,
Dr. Christopher Granger
Every Student. Every Day. In a New Way!