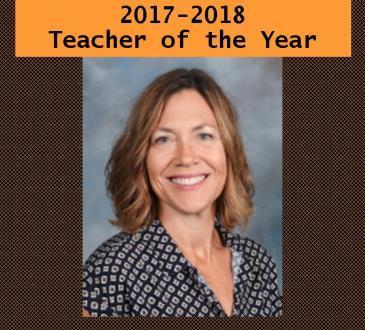 Congratulations Teacher of the Year!
Blaine School District (originally posted 5-18-18)
Thursday, June 28, 2018
Blaine School District is pleased to announce that Nicole Roetcisoender has been selected as 2017-2018 Teacher of the Year. Nicole was recommended by multiple peers at Blaine High School who identified her as a strong leader in the high school's science department, as well as an empathetic and caring advocate for all students. As a National Board Certified instructor, Nicole has demonstrated her own commitment to lifelong learning. In her AP Chemistry class and as a REACH advisor (highly capable program), she encourages students to also pursue excellence. As an advisor for both the SWAP Club (Students With A Purpose) and the Up-Standers United (social equity) group, Nicole is committed to improving school climate and culture as well as helping students become positive contributors to society. We are so very grateful for the level of skill and dedication that we see from our staff at all levels of the program. It is clear that Nicole consistently epitomizes these qualities in her work. Congratulations to Nicole on this well deserved recognition!