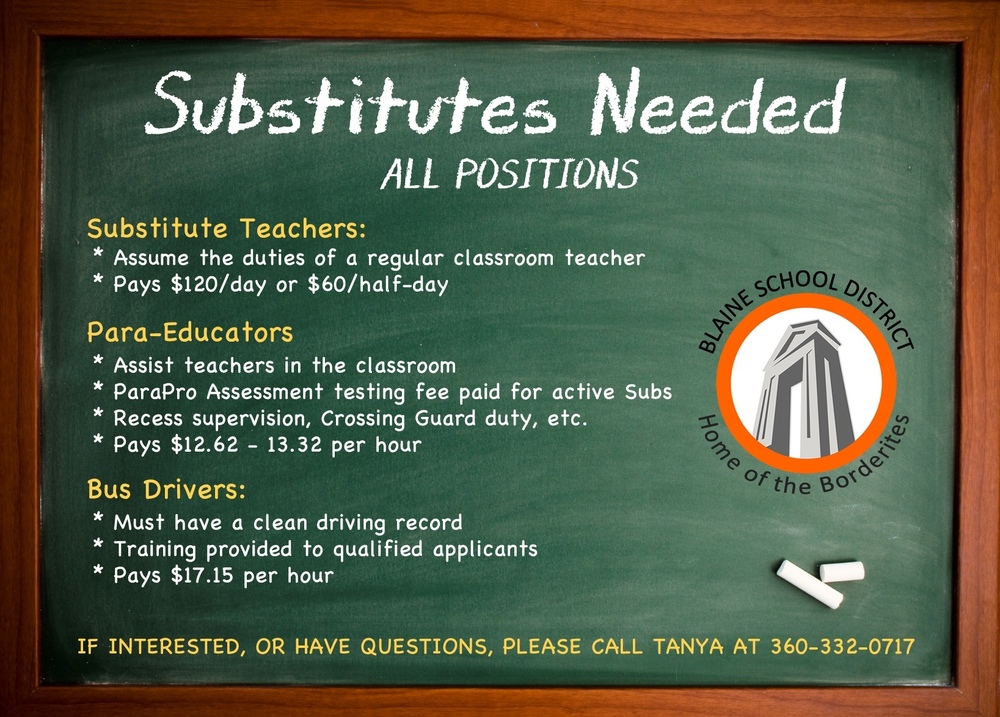 Substitutes Needed
Brenda Bowles
Friday, September 28, 2018
Substitutes are an important part of our family of dedicated educators. The Blaine School District is currently looking for new substitutes to work throughout the district in both certificated and classified positions. Often this is the first position that individuals hold prior to becoming a regular employee, and is a great way to gain experience and to earn money while maintaining a flexible schedule! If you know anyone who is interested in working as a substitute, please have them contact Tanya Carter at: tcarter@blainesd.org and ask for an application packet to be mailed to your home. Or, if it is more convenient to stop by the District Office at 765 H Street in Blaine, we would be happy to provide one for you between the hours of 8:00 a.m. and 4:30 p.m.
Certificated Teachers – We are looking for Certificated Substitute Teachers in Grades K-12.
ParaEducator Substitutes – If you recently took the Para Pro Assessment exam, you may be eligible to have your testing fee reimbursed – please contact Tanya at 360-332-0717 for more information.
Bus Driver Substitutes – Do you love kids and love to drive? Do you have a clean driving record? Training provided for new drivers! Please contact Rachel at 360-332-0700 for more information.