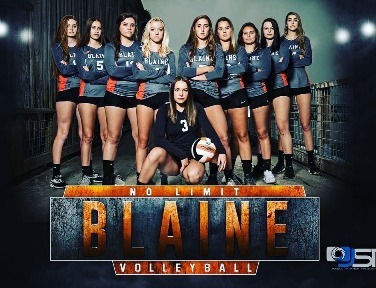 Borderites Move On to Postseason Competition
Blaine School District
Wednesday, October 31, 2018
UPDATE 11/2/18: Blaine High School's Volleyball Team won both matches in the District 1/2 Tournament on November 1st. With these victories, the team qualified for the upcoming State Tournament at St. Martin's College in Lacey which takes place on November 9 and 10. Preliminary to the State Tournament, the Borderites will return to Sammamish High School for a match at 2:00pm on Saturday, November 3, to compete for the overall District 1/2 Championship against the Lynden Lions. It is indeed a very exciting moment for the entire Borderite Community and we are so very proud of these student athletes. Go Borderites!
POSTED 10/31/18: District Playoffs are underway this week for both the football and volleyball teams. After a win against Mountlake Terrace last Friday, the Borderite football team will compete against Lynden at Civic Field on November 2, starting at 7:00pm. The winner of that game will move on to state.
After a successful fall season, our Borderite volleyball team is also moving into District Playoffs as the #4 seed out of 13. Their first round match is up against Archbishop Murphy at 4:00pm on Thursday, November 1st, at Sammamish High School with a second match that evening (opponent TBD) starting at 7:00pm.
Last weekend, the cross country team competed in the District 1 meet at South Whidbey High School, and Eleeshiyah Faulkner qualified to move on to state competition in Pasco on November 3.
Congratulations to all of our fall athletes on a great season, and best wishes in this week's competitions. Go Borderites!