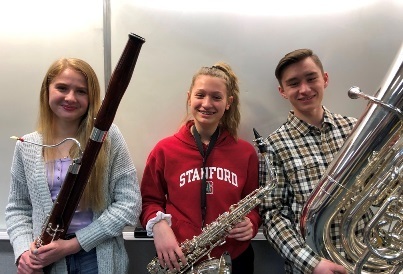 Congratulations Borderite Musicians!
Blaine School District
Wednesday, February 27, 2019
Recently, three Blaine High School Band students performed solos at the San Juan Music Educators Association Regional Senior Solo & Ensemble Festival at Bellingham High School. Timothy Schrader, senior tuba player, Sydney Thrall, junior bassoon player, and Stephanie Boczek, freshman alto saxophone player all gave outstanding performances. Tim and Sydney both placed first in their respective instrument categories, and Stephanie placed second. Tim and Sydney, as first place winners at the regional event, are now going to perform and compete at the Washington State Solo Contest on April 27th at Central Washington University in Ellensburg, WA. Tim has twice performed at the State Solo Contest. As a Sophomore, he took third place in the state, and last year, as a junior, he won the first place award. The Washington State Solo Contest is an open competition with no accommodations for school size, so this is a big deal!
All three of these outstanding student musicians are members of the Blaine High School Wind Ensemble. Proud to be a Borderite!