EDIT MAIN
FASTTRACK ONLINE APPLICATION SYSTEM
Blaine School District has moved to an online application system. Applications with a link to FastTrack must be competed online; paper applications WILL NOT be accepted for these postings.
To be considered for employment with Blaine School District, a full online application must be submitted. All applications must include a cover letter in order to be considered for employment.
To view a list of our current FastTrack position openings or to apply for an open FastTrack position, please click on the link below:
VIEW CURRENT OPENINGS IN FASTTRACK
Employment is conditional upon successful completion of WSP/FBI background and fingerprint checks at the applicant's expense. If you have any questions, please contact the Human Resources Office at 360.332.0717 or email tcarter@blainesd.org
---
CURRENT EMPLOYEES (Including coaches)
Please view the following attachment for information on how to apply for a position through Employee Access:
FastTrack Instructions For Current Employees
---
ALL OTHER APPLICANTS (Including Substitutes)
Please view the following attachment for information on how to apply for a position:
FastTrack Instructions For All Other Applicants
Please Click Here To View Our Frequently Asked Questions Regarding The FastTrack Application Process
CLASSIFIED AND CERTIFICATED SUBSTITUTES NEEDED
The Blaine School District is currently looking for new substitutes to work throughout the district in both certificated and classified positions. Often this is the first position that individuals hold prior to becoming a regular employee. Please email Tanya Carter at: tcarter@blainesd.org and ask for an application packet to be mailed to your home. Or, if it is more convenient to stop by the District Office at 765 H Street in Blaine, we would be happy to provide one for you between the hours of 8:00 a.m. and 4:30 p.m.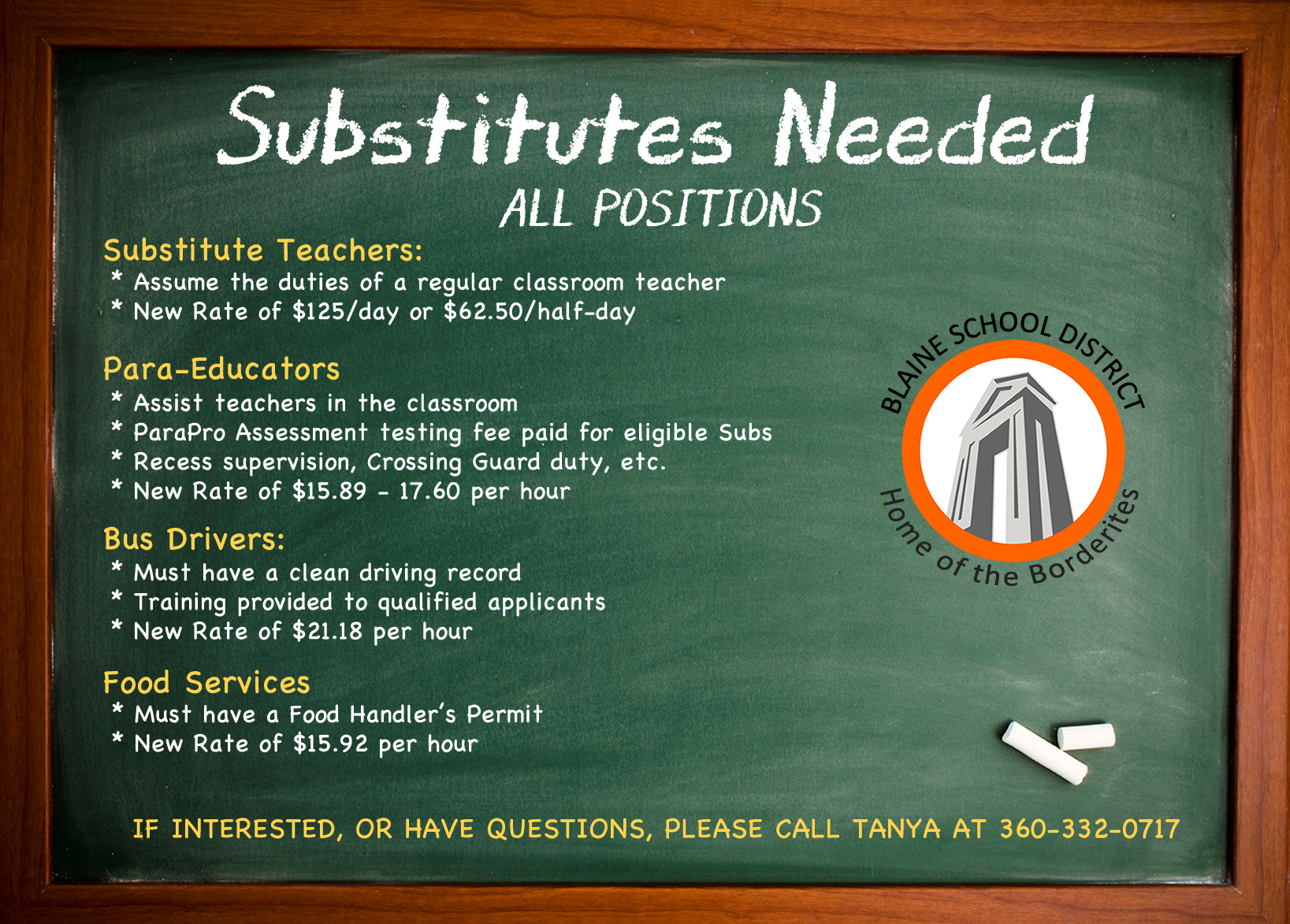 ---
READYSUB
ReadySub is the new Absence & Substitute Management software we are using starting Fall 2019, and will replace Substitute Online.
"WE ARE AN EQUAL OPPORTUNITY EMPLOYER"
NONDISCRIMINATION STATEMENT
Blaine School District does not discriminate in any programs or activities on the basis of sex, race, creed, religion, color, national origin, age, veteran or military status, sexual orientation, gender expression, gender identity, disability, or the use of a trained dog guide or service animal and provides equal access to the Boy Scouts and other designated youth groups. The following employee(s) has been designated to handle questions and complaints of alleged discrimination:
Civil Rights Coordinator: Director Federal & Special Programs, 765 H Street, Blaine, WA 98230 360-332-5881
Title IX Officer: HR Supervisor, 765 H Street, Blaine, WA 98230 360-332-5881
Section 504 Coordinator: Director Federal & Special Programs, 765 H Street, Blaine, WA 98230 360-332-5881
You can report discrimination and discriminatory harassment to any school staff member or to the district's Civil Rights Coordinator, listed above. You also have the right to file a complaint. For a copy of our district's nondiscrimination policy (5010) and procedure (5010P), contact your school or district office or view our policies & procedures online here: https://go.boarddocs.com/wa/wabsd/Board.nsf/Public#