ALL GRADE LEVELS IN HYBRID LEARNING
Our campuses are all abuzz with excitement as we are now teaching our hybrid learners in all grade levels. We'll have some new students returning to the campus with the start of the second semester on Monday, January 25, 2021. We've been communicating directly with these families, but want to remind you that you can find all the information you need about the hybrid learning model here on our website.
Each school has its own section dedicated to this new year, with links in the list on the left, where you will find more grade specific information. In addition, we are continually updating our COVID Info page as well as our COVID FAQ page. More information about our Phase-In plan and dates can be found on our 2020-2021 Phase-In Plan page.
If you have received a hybrid assignment notice for your student and would like to choose our online only learning model, you can do so by emailing Mr. Radke, Blaine Primary School Principal.
PARENT PICK-UP AND DROP-OFF FOR RETURN TO HYBRID
FRIDAY LEARNING EXPECTATIONS
The Friday menu in your child's Google Classroom provides you with a plethora of options for Friday activities. Since your student has been on screens most of the week, our goal with the Friday menu is to provide a combination of online learning activities, which are done on the computer, and offline activities, which do not require the use of the computer. Our hope in this is to meet the various needs of our individual families. You can choose to engage in either type of activity, whatever suits your family best! There have also been several questions about whether or not you can veer from the menu and do some other activities. Just work with your child's teacher around this and we can certainly make a plan!
WAYS TO "TURN IN ASSIGNMENT" FOR FRIDAY (FOR ATTENDANCE)
CHOOSE ANY OF THESE OPTIONS:
Fill out the google form your teacher assigned
Add a comment in Google Classroom with the activities you completed and then "Mark as Done."

Send your teacher an email telling what you did

Snap a photo and send it to your teacher!
Accessing your child's Google Account:
Logging in: Open a new browsing window. Visit www.google.com and locate the sign in button at the top right corner.

Username: your student's login is their first.lastname@stu.blainesd.org (nospaces). Example~ harry.potter@stu.blainesd.org

Password: Blaine + Lunch Number (no spaces). Example~ Blaine1234 (If you are unsure of your child's lunch number, contact the teacher and they can help!)
Accessing your Classroom Google Meet:
Ensure you are signed into your child's google account (steps above)

In a web browser use this link to access Google Meet or click on the waffle in the upper right corner and click on Meet.

Click Join or start a meeting

Enter your google meet code or google meet nickname

Your child's teacher will send you a direct link to your google meet via email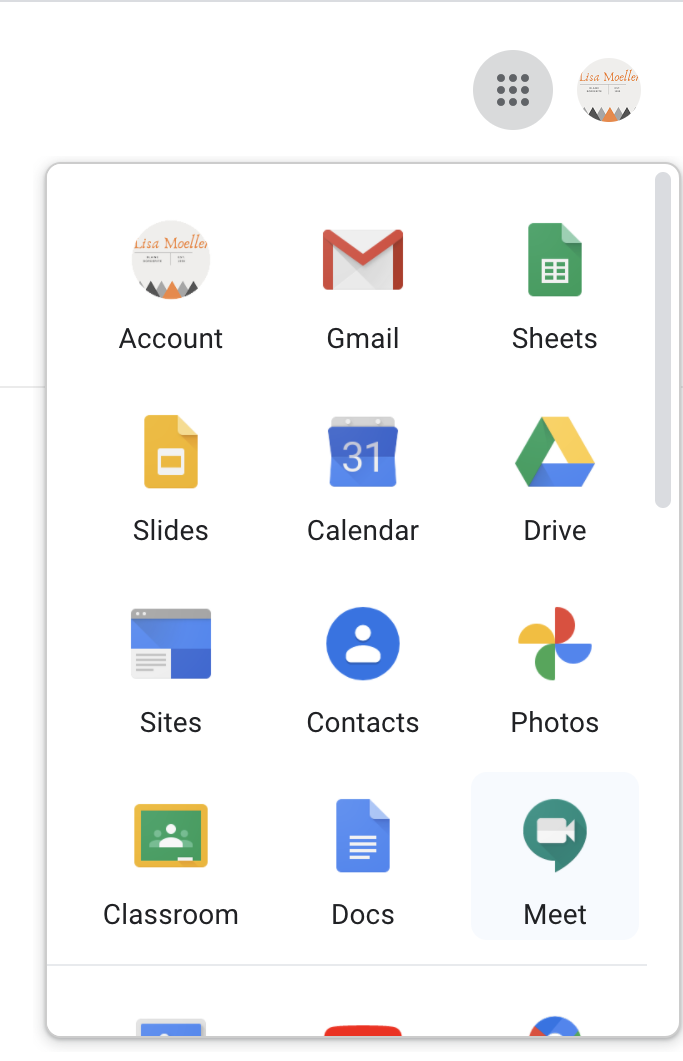 Accessing your child's virtual Google Classroom:

Please make sure you are logged into your child's Google account to access this

If you don't see an invitation, your child's teacher can give you an access code directly.

If you have trouble accessing google classroom, please ask for help during your google meet or contact our Tech Help team.