Contact us through our Tech Help Form.
This is the best way for students, teachers and families to request help.
To pick up a chromebook for your student, please view the Parent/Student Technology Orientation below, and complete the Tech Help form at the end of the presentation to schedule an appointment for pick up. Student devices will not be permitted this school year. Appointments are required.
We have established a new email address to allow our dedicated staff to provide support to our students and families. If you are having technology issues and your questions aren't addressed here on this page, please reach out to our Tech Help team.
ACCESSING YOUR STUDENT GOOGLE ACCOUNT:
Logging in: Open a new browsing window. Visit www.google.com and locate the sign in button at the top right corner.
Username: your student's login is their first.lastname@stu.blainesd.org (no paces). Example~ harry.potter@stu.blainesd.org

Passwords:
K-6: Blaine + Lunch Number (no spaces). Example~ Blaine1234 (If you are unsure of your child's lunch number, contact the teacher or building secretary and they can help!)
7-12: Skyward Password (submit our Tech Help form for assistance if needed)
ACCESSING YOUR CHILD'S VIRTUAL GOOGLE CLASSROOM:
Please make sure you are logged into your child's Google account to access this

If you don't see an invitation, your child's teacher can give you an access code directly.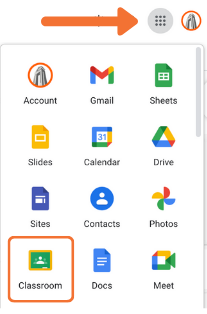 ACCESSING YOUR CLASSROOM GOOGLE MEET:
Ensure you are signed into your/your student's google account (steps above)
In a web browser use this link to access Google Meet or click on the waffle in the upper right corner and click on Meet.

Click Join or start a meeting

Enter your google meet code or google meet nickname

For K-5, your child's teacher will send you a direct link to your google meet via email

For 6-8, google meet codes have been emailed to the student

For 9-12, google meet codes can be found on the BHS 2020-2021 School Year page.