Contact us through our Tech Help Form.
This is the best way for students, teachers and families to request help.
The new school year is approaching quickly and we are excited to welcome our students back to campus!
As your student prepares to return to school, they will need to pick up a district issued chromebook. The Technology Department will be conducting a drive-thru chromebook distribution, located at the Technology Office. See the image below for location.
DISTRIBUTION DATES AND TIMES:
August 22-26, 9am-1pm & 5pm-7pm All Students, grades K-12 registered for school PRIOR to June 30, 2022. (Including HomeConnections students)
August 29 -30 9am-1pm & 5pm-7pm All Students, grades K-12, regardless of registration date.
WHAT YOU NEED TO KNOW:
Your student will be issued a chromebook after the following criteria have been met
After registering for school.

Read the following information with your student.

Complete and sign the Chromebook checkout agreement form when you pick up your student's device.
Prior to checking out a district issued chromebook, we would like for you and your student(s) to be aware of some important information. Please review the Student Chromebook Checkout Agreement 2022-2023 together before arriving for pick up. If you'd like to save a little time, you can also print and complete the check out form in advance.
*A parent or guardian must be present at pick up to sign for the device.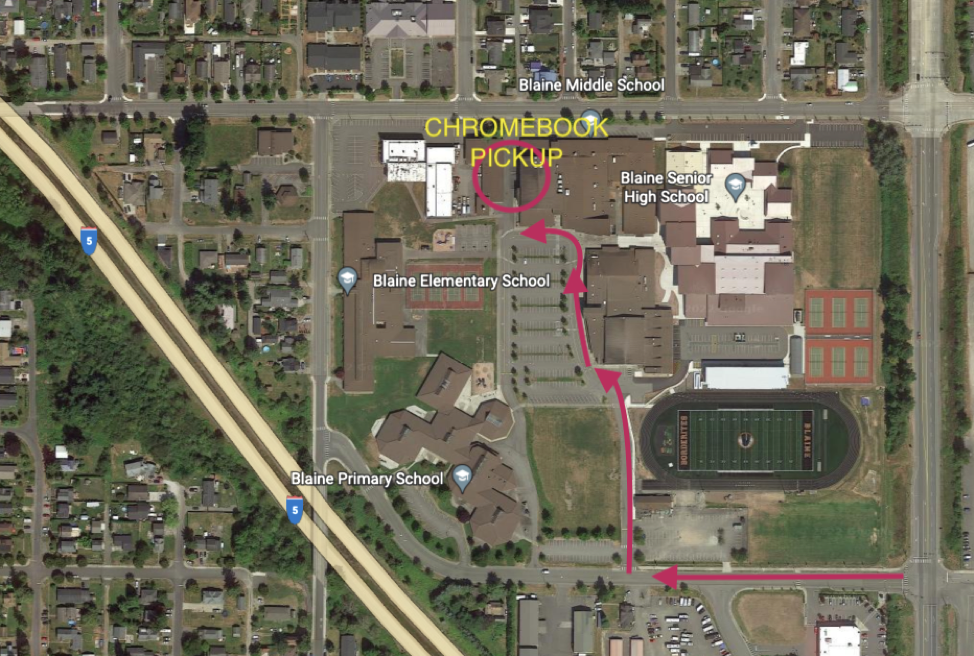 ACCESSING YOUR STUDENT GOOGLE ACCOUNT:
Logging in: Open a new browsing window. Visit www.google.com and locate the sign in button at the top right corner.
Username: your student's login is their first.lastname@stu.blainesd.org (no paces). Example~ harry.potter@stu.blainesd.org

Passwords:
K-5: Due to our software conversion passwords had to be changed. Information about passwords will be provided in the classroom.


6-12: Blaine# + Student PIN. Example: Blaine#1234 (students receive their PIN in person from their teacher or school librarian)
Please make sure you are logged into your child's Google account to access this

If you don't see an invitation, your child's teacher can give you an access code directly.