BSD will operate on a 2 hour late start on Monday, January 3rd. Additionally, BPS Lifeskills and Pt. Robert's Primary School will be on remote learning for the week of January 3rd-7th.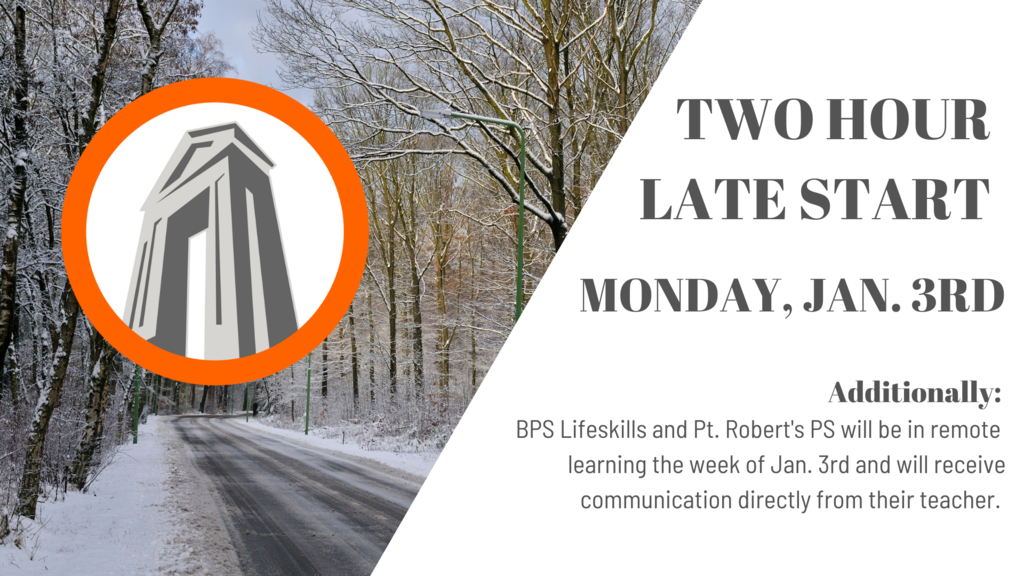 BSD will operate on a 2 hour late start on Monday, January 3rd. Additionally, BPS Lifeskills and Pt. Robert's Primary School will be on remote learning for the week of January 3rd-7th.

Power and related infrastructure systems have been restored to Blaine School District's campus. All of our schools are set to operate on their regular schedules on Tues. 12/14, absent unforeseen inclement weather.

Blaine School District will be closed tomorrow, Monday, December 13th, due to a power outage affecting multiple locations across our campus. The closure is in effect for all schools and locations.

All Blaine School District locations will resume regular schedules and services on Wednesday, November 17, 2021. At this time no alternate bus routes are expected. Should conditions in the Ferndale area cause a closure to I-5 overnight (which is not anticipated), a school closure may be reconsidered. Any change would be announced by 6:30 A.M.

All BSD locations remain closed today, Tuesday, November 16, 2021. Please check our website, app or social media channels after 4:00 P.M. for information regarding a decision for Wednesday.

Out of an abundance of caution, school will be cancelled tomorrow, Tuesday, November 16th. While we did give consideration to a remote learning day, the potential challenges with electricity in some areas led us to the decision to cancel all school activities, including extra curricular, for tomorrow.


We hope to have teacher assignments, schedules and bus route information available in Skyward by Wednesday, August 25th. Enrollment and staffing continue to fluctuate, making last minute adjustments necessary. We are trying to avoid releasing information that is still subject to change. However, Skyward is available now to apply for the Free and Reduced Lunch program, which is more than a meal application and could include other benefits for your student as well as others across the district. If you think you might be eligible, please apply today.

The menu for this Wednesday's meal pickup is now available on our website. Meals will continue to be available to ALL students at no charge through summer break. Visit the Food Services page for details:
https://www.blainesd.org/page/food-services
.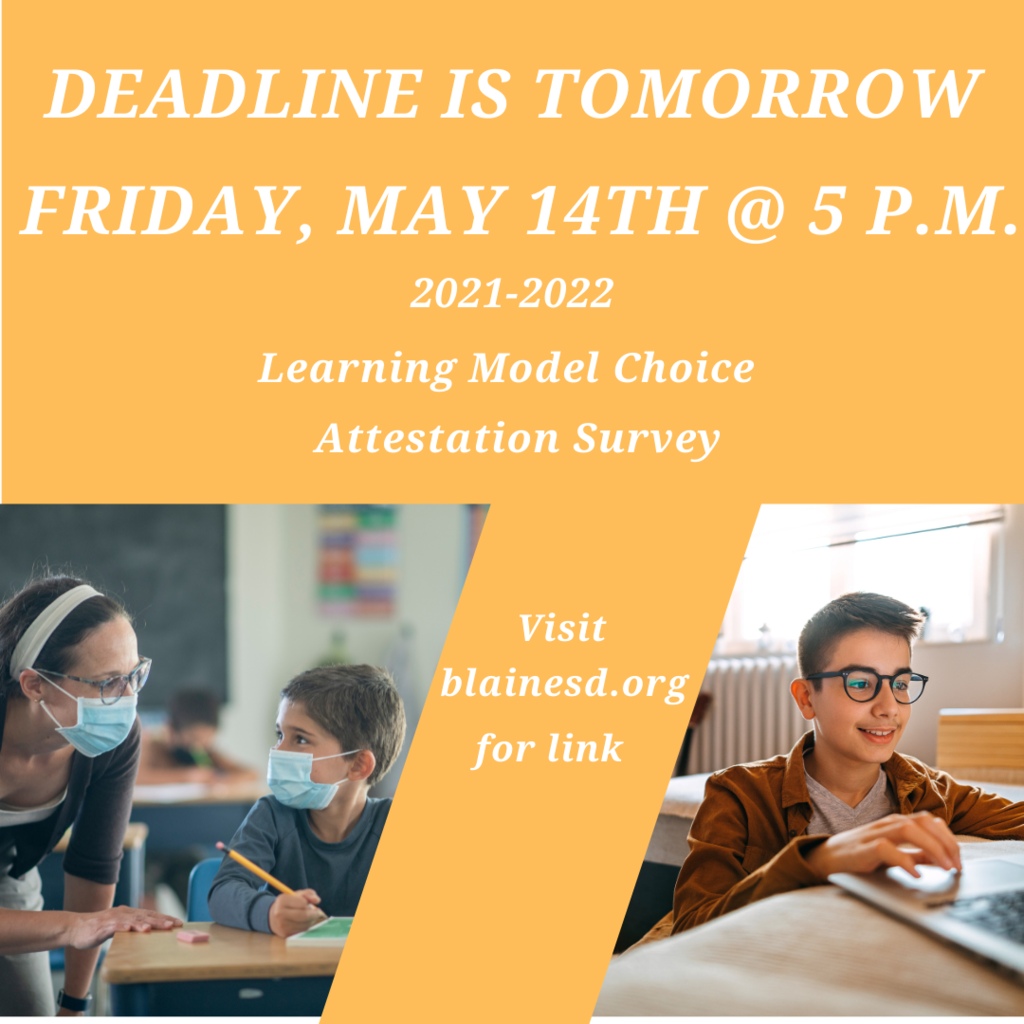 Internet network access on the Blaine campus has been restored. In-person learning will resume for hybrid "B" students on Wednesday, March 31. Thank you for your flexibility and patience while this matter was resolved.

Due to persistent internet outages on the Blaine campus, all students and staff (including Point Roberts) will be remote, online only, on Tuesday, March 30. There will be no bus transportation and no in-person instruction on Tuesday. All instruction will be done remotely. Information about Wednesday will be provided no later than Tuesday evening. Please know that we are working diligently to resolve this issue as soon as possible. Thank you for your continued patience.



Pandemic EBT "2.0" is coming soon and will provide food benefits to replace meals missed during the 2020–21 school year. If your student is eligible for the free and reduced lunch program, you will automatically receive a P-EBT Card. Think you might be eligible, but haven't yet applied? NOW IS THE TIME, and you can find everything you need on our Food Services page. If you're already signed up for free and reduced lunch, please make sure your address is correct in Skyward. If your address needs to be updated, please contact your student's school office. This is an important step, because your mailing address in Skyward will be what the state uses when issuing your new P-EBT Card.

Wednesday, February 3rd, the wellness screening in Skyward will be modified to align with the most recent health department guidance. A new statement has been added to the second question. Please be sure to read it carefully before completing your attestation. Remember to complete by 7:00 a.m. to help keep the arrival process running smoothly!

Watch for an email this afternoon with a link to request a change to your student's method of instruction for second semester. (Hybrid/Online) The opportunity to request a change will be open until 5:00 P.M. on December 10th.