Family Access will be activated for families on August 19th. A software conversion over the summer means a new look for Family Access and a few steps you'll need to take to be ready to access it. Visit our website for instructions.
https://www.blainesd.org/page/family-access

Sign up now for the Family Service Center's Back to School event on 8/24. Eligible families can get help with school supplies and arrange to pick up their chromebooks. ALL students can sign up for sports physicals and immunizations (available 9-1)
https://tinyurl.com/2nnh95np

Join Dr. Granger for a Community Q&A tonight, 3/9, at 6:00 P.M. Link to join the virtual event is on our homepage at
www.blainesd.org

Today, Thursday February 24th, all Blaine schools will start two hours late due to road conditions. There will be no AM preschool and no AM out of district transportation.

All Blaine Schools will return to in-person learning on Monday, January 31st at their regularly scheduled start times.

As we prepare to return to in-person learning on Monday, January 31st, we want to remind our staff and families of the need to stay home if symptomatic and follow the Department of Health decision tree, on our website;
https://www.blainesd.org/o/blaine-school-district/page/covid-19-info-and-updates
The district will be offering PCR testing on our campus Thurs. and Fri., 10:30-11:00 A.M. (Testing is on the north side of the middle school gym, across H Street from the Boys and Girls Club.)

BSD will operate on a 2 hour late start on Monday, January 3rd. Additionally, BPS Lifeskills and Pt. Robert's Primary School will be on remote learning for the week of January 3rd-7th.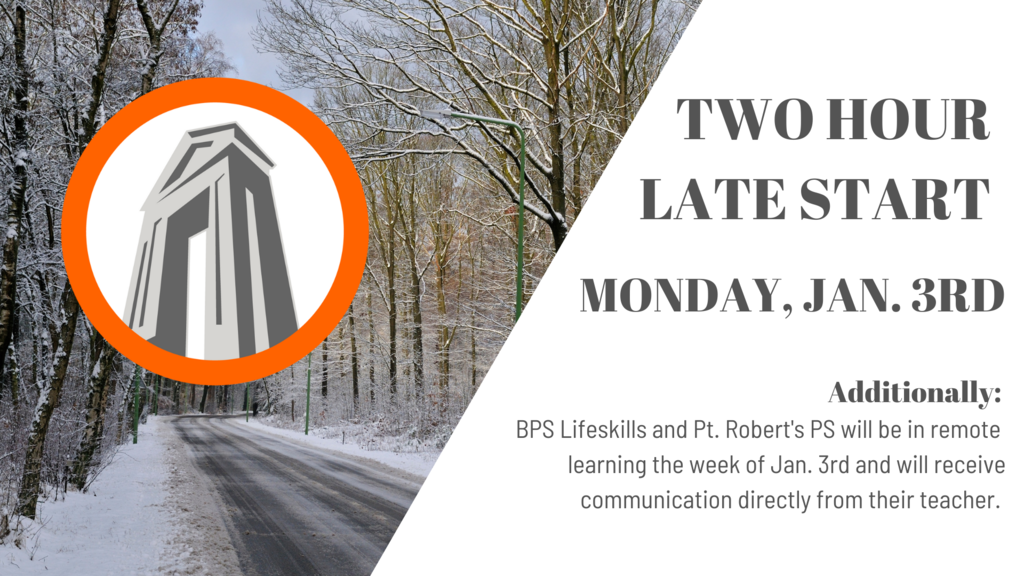 Power and related infrastructure systems have been restored to Blaine School District's campus. All of our schools are set to operate on their regular schedules on Tues. 12/14, absent unforeseen inclement weather.

Blaine School District will be closed tomorrow, Monday, December 13th, due to a power outage affecting multiple locations across our campus. The closure is in effect for all schools and locations.

We are monitoring the restoration of power to our campuses. We will message any impacts for tomorrow as soon as possible, but that may not be until the morning. We recommend families have an alternate plan for tomorrow just in case. 

All Blaine School District locations will resume regular schedules and services on Wednesday, November 17, 2021. At this time no alternate bus routes are expected. Should conditions in the Ferndale area cause a closure to I-5 overnight (which is not anticipated), a school closure may be reconsidered. Any change would be announced by 6:30 A.M.

All BSD locations remain closed today, Tuesday, November 16, 2021. Please check our website, app or social media channels after 4:00 P.M. for information regarding a decision for Wednesday.

Out of an abundance of caution, school will be cancelled tomorrow, Tuesday, November 16th. While we did give consideration to a remote learning day, the potential challenges with electricity in some areas led us to the decision to cancel all school activities, including extra curricular, for tomorrow.


We hope to have teacher assignments, schedules and bus route information available in Skyward by Wednesday, August 25th. Enrollment and staffing continue to fluctuate, making last minute adjustments necessary. We are trying to avoid releasing information that is still subject to change. However, Skyward is available now to apply for the Free and Reduced Lunch program, which is more than a meal application and could include other benefits for your student as well as others across the district. If you think you might be eligible, please apply today.

Chromebook pick up begins Mon., Aug 23rd. Visit our Tech Help page,
https://www.blainesd.org/page/tech-help-2022
, to view the Parent/Student Technology Orientation and make your appointment for pick up. Student devices will not be permitted this school year. Appointments are required.


The menu for this Wednesday's meal pickup is now available on our website. Meals will continue to be available to ALL students at no charge through summer break. Visit the Food Services page for details:
https://www.blainesd.org/page/food-services
.