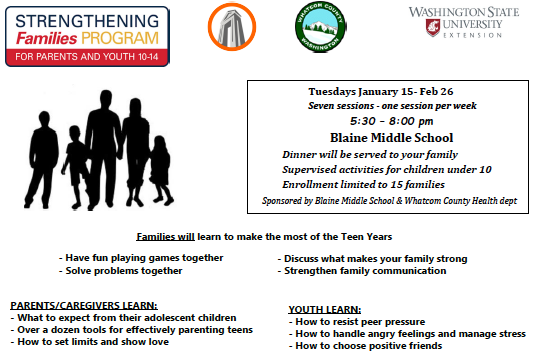 BMS - STRENGTHENING FAMILIES
Darren Benson
Friday, December 21, 2018
BLAINE MIDDLE SCHOOL PRESENTS . . .
REGISTER TODAY!!! ENROLLMENT IS LIMITED TO 15 FAMILIES.
Fill out the attached registration form and email it to kholley@blainesd.org or return the registration to the Blaine Middle School Office on January 3, 2019, when students return to school.
As a middle school, we recognize the importance of families and want to provide yearly opportunities for families to work, learn, and play together.
Blaine Middle School is offering the STRENGTHENING FAMILIES PROGRAM in partnership with WSU and the Whatcom County Health Department.
The Strengthening Families Program will run on Tuesdays, from January 15- Feb 26, in seven sessions - one session per week. Dinner is served to families and Child Care is provided for children under 10.
Have fun playing games together
Solve problems together
Discuss what makes your family strong
Strengthen family communication
YOUTH LEARN: - How to resist peer pressure - How to handle angry feelings and manage stress - How to choose positive friends.
PARENTS/GUARDIANS LEARN: - What to expect from their adolescent children- Over a dozen tools for effectively parenting teens- How to set limits and show love.
5:30 – _8:00 pm
Blaine Middle School
Dinner will be served to your family
Supervised activities for children under 10
Enrollment limited to 15 families
Sponsored by Blaine Middle School & Whatcom County Health dept.
REGISTER TODAY!!! ENROLLMENT IS LIMITED TO 15 FAMILIES.