Good evening students, staff, families and community,
There are a couple of important topics that came to light today, prompting me to send the community message to you a day early.
NO ACTIONABLE THREATS TO OUR SCHOOL
Earlier today we sent out a message about false reports of an active shooter event. I want to take this opportunity to reassure you that no actionable threats were made towards any of our schools. Law enforcement officials assured us the 911 call placed regarding our high school campus was a "hoax".
IMPORTANT BUS SCHEDULE CHANGES TOMORROW
A large number of staff absences due to illness have made it necessary for our Transportation Department to combine some of our bus routes for tomorrow. If you or your student ride on routes 3, 5, 7 or 12, please review the below schedule for changes to tomorrow's routes. The times are approximate, and we encourage you to plan for 5-10 minutes of leeway. It will be the first time for drivers and students to do these new adjusted routes, and change is always hard. Please be patient with your drivers and with one another.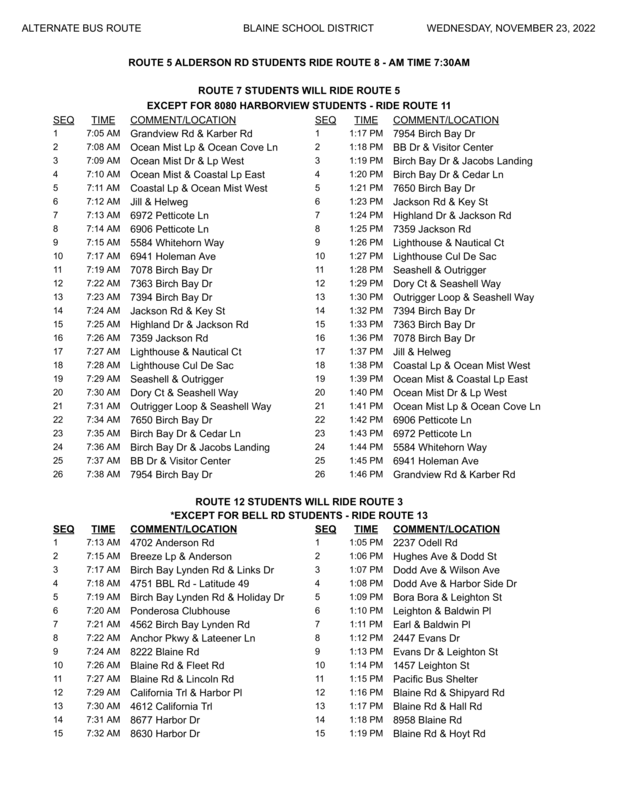 STAY HOME WHEN SICK
I know we've said this already, but it's worth repeating. Please stay home from school if you are sick. Please try to see your primary care doctor or visit an urgent care clinic if needed. The pediatric health care system is stretched thin.
WE GIVE THANKS & GIVE BACK
We at Blaine School District give thanks for our Borderite Family; all of our students and staff and their families and the greater community that lifts us up and supports us in so many ways. We have had a wonderful two weeks helping to support those around us who are suffering from food insecurity, with huge numbers of food donations coming in through our schools.
Donations can also be made directly to Blaine Food Bank online at their website www.blainefoodbank.org. Please add a note "Blaine Gives Back", so we can help our students track their efforts. We look forward to all coming together to give back.
UPCOMING DATES
November 23rd - Monetary donations to Blaine Food Bank can be made at each school
Wednesday November 23rd - All grade level early release @ 12:50 pm
Thursday November 24th - Thanksgiving Day - No School
Friday November 25th - Native American Heritage Day - No School
It is my wish that each of you is able to enjoy time with someone you love over this upcoming Thanksgiving break and that you are able to find something you are grateful for. It's a great night to be a Borderite, and as always, a great night to be your superintendent.
Sincerely,
Dr. Christopher Granger
Each Student. Each Day.