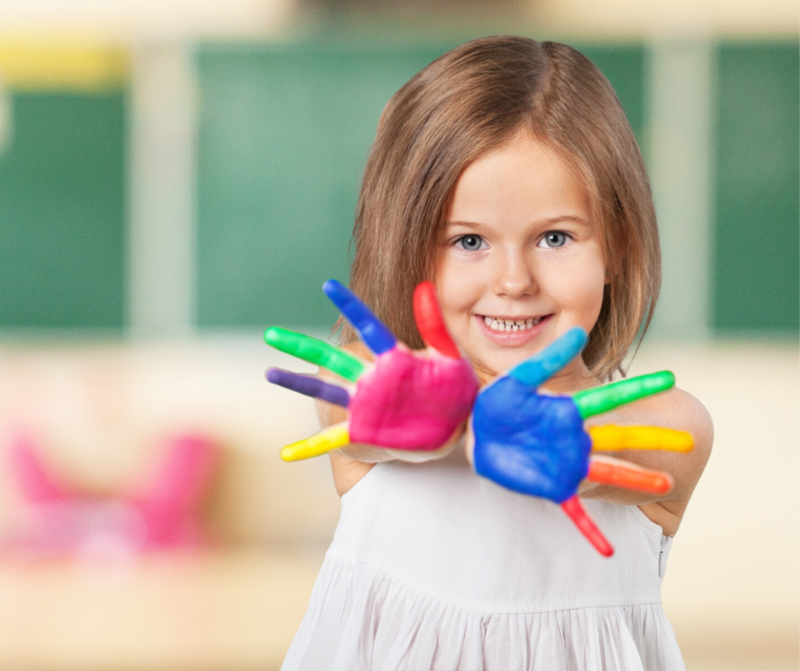 KINDERGARTEN REGISTRATION
Kindergarten Registration for the 2021-2022 School Year will open on March 29, 2021. Click here to view our informational flier.
WELCOME TO KINDERGARTEN AT BLAINE PRIMARY SCHOOL
The kindergarten school year will be centered around learning through play. We also will be working on school expectations and routines as your child transitions from home life to full days learning at school. Their school day will be structured around the developmental needs of young learners and that may look a little different than how you remember school. We will utilize a variety of activities to incorporate learning in meaningful and engaging ways for young students. Below you will find information that guides our teaching along with some suggestions on ways to prepare your child for kindergarten.
WHAT IS REASONABLE TO EXPECT OF A 5-YEAR OLD
Lots of physical activity is required (includes time outside)

Benefit from time spent in free play and hands-on activities

Better able to control large body movements (jumping, running)

May struggle with small movements (writing, cutting)

Respond well to clear expectations and consistent routines

May struggle to see things from someone else's point of view

Often think "out-loud" or speak without thinking first

May struggle with concepts like turn-taking, sharing, waiting and fairness

Enjoy learning through repetition and exploration

An attention span of 15-20 minutes for an activity is typical
SOMETHING TO CONSIDER BEFORE KINDERGARTEN STARTS
Children seek to find boundaries and will push until they do. Boundaries and routines establish predictability which is essential to a positive and safe school experience. We have included some ideas on ways to set up structure and routine at home that will help your child begin to build important foundational skills that will prepare them for school.
Some ideas to work on at home during the summer...
A reasonable bedtime that allows for sufficient sleep (The CDC recommends 10-13 hours/24 hours for this age)

Establish a morning routine Start now by having your child get up, get dressed, eat breakfast and brush their teeth at a similar time each morning. This will help prepare them for busy school mornings in the fall that can be a challenge for everyone.

Limit screen time (includes time spent on Tablets, Phones. video games and watching TV) Time spent on a device takes away from their time being active or engaging in imaginative play which is important for healthy development.

Help your child prepare for the school environment by setting limits. There will be times at school when your child may hear "No" or not get their way, and they need to have the ability to work through their emotions. Coping strategies are important skills and practicing at home will make the experience at school easier on your child, their teacher and you.

Balance your "Nos" with choice when reasonable. Young children need practice with making decisions and having some opportunities for choices will provide them with a reasonable amount of control for their age. It will also help them accept the times when they don't get a choice. (example: give them a choice on what to wear today not on what time they go to bed)

Have your child do the things they can do for themselves on their own. Students in a classroom will need to be able to take some responsibility for themselves. Help them get started with this at home. It is age appropriate for most 5 year olds to help clear the table after they eat, clean-up their own toys and messes, get dressed and undressed by themselves and toilet independently. It may take a little longer at the start, but in the end you are giving them important skills they will need to be successful students.

Help them begin to consider other people and their needs. It is helpful for your child to have experience with not always getting their way. This includes situations like not always winning at games, sharing items, waiting for their turn and other situations that require them to practice patience and handling disappointment. These will all come up at school.

Identify their name. It is helpful if they can recognize and maybe even write their name using 1 uppercase letter followed by lower case letters for the rest. (example: Cole) We will work on the whole alphabet as a class but being able to identify their name will help them find their cubby, spot at the table and other items in the classroom.
SOCIAL EMOTIONAL LEARNING (SEL)
The social and emotional health and education or our students is a priority for all of the schools in Blaine School District. Here you'll find some SEL tools for students and families of incoming kindergarteners, including some ideas of ways to help your student prepare for the start of school. Although the video is geared towards new kindergarten families, we hope it holds some value for all primary school families.
FOUR ELEMENTS OF CONNECTION
Eye contact, presence, touch and a playful setting are the four core components required to truly connect with others. Learn how to provide all four essential elements (and why) with this helpful guide.