The varsity football game originally scheduled for tonight (9/10) has been cancelled. The Borderites will instead take on Baimbridge Island HS on Sat., Sept. 11th at 2 P.M. at home.

Girls Varsity Soccer scheduled for Thursday, September 9th has been cancelled. They have two games scheduled for next week, both away, and their next home contest is set for Tuesday, September 21st at 7 P.M. in Borderite Stadium. 

ATTENTION FAMILIES OF STUDENT ATHLETES: Students whose families are approved for Free and Reduced Lunch are also eligible for free/reduced ASB cards and other participation fees, so apply today through Skyward Family Access. Be sure to complete the Consent to Share Form, so schools will know your student is eligible for those savings.


We hope to have teacher assignments, schedules and bus route information available in Skyward by Wednesday, August 25th. Enrollment and staffing continue to fluctuate, making last minute adjustments necessary. We are trying to avoid releasing information that is still subject to change. However, Skyward is available now to apply for the Free and Reduced Lunch program, which is more than a meal application and could include other benefits for your student as well as others across the district. If you think you might be eligible, please apply today.

Chromebook pick up begins Mon., Aug 23rd. Visit our Tech Help page,
https://www.blainesd.org/page/tech-help-2022
, to view the Parent/Student Technology Orientation and make your appointment for pick up. Student devices will not be permitted this school year. Appointments are required.

​The BHS 2020-2021 Yearbook will be distributed on Monday, August 30th to those who pre-ordered one. Please come to the front of the High School on H Street for a drive thru pick up between 1-3 P.M. and 5-7 P.M.​

Summer adventures need on-the-go meals! Make those adventures easier to plan for by picking up a week's worth of no-charge, grab-and-go breakfasts and lunches for your student. Summer pick-up is every Weds. from 1:00-5:30 P.M., behind the new stadium. Weekly menus are available on our website.
https://www.blainesd.org/page/food-services


The menu for this Wednesday's meal pickup is now available on our website. Meals will continue to be available to ALL students at no charge through summer break. Visit the Food Services page for details:
https://www.blainesd.org/page/food-services
.

Don't forget the Arts & Jazz Zoom-A-Thon tomorrow, Weds. June 2nd, from 7-9 P.M. Login and support our BHS students of the arts. Link for event will be posted to our homepage
www.blainesd.org
on Wedneday.

BHS Recognition Night is this Thurs., May 27th @ 6 P.M. Watch for the premiere link on our YouTube channel, Blaine School District, WA and on our website. Don't miss this chance to celebrate our Borderites! #theblaineway #ourtimetoshine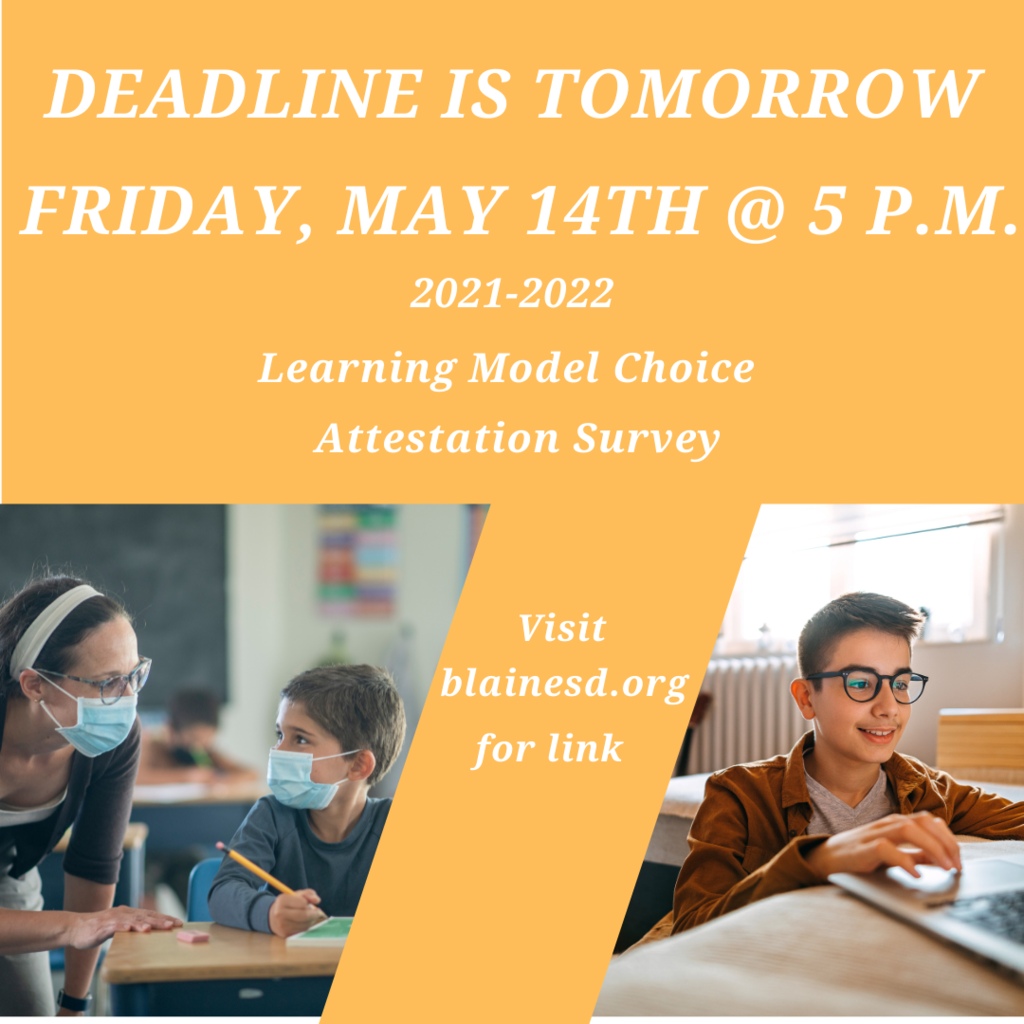 BHS Cheer Tryout Reminder: Cheer Tryouts are this Friday and Saturday, May 14th and 15th! Tryouts will be held in the Ken Waters Gym. To receive the tryout material, and for more information regarding tryouts, please email Coach Christie at
cpeetoom@blainesd.org
.



The BHS Fine Arts premier of "Graffiti on a Diamond" goes live starting today , April 28th, at 7pm. Here's the link:
https://youtu.be/dOQhMeZs4aw


Bus routes and schedules have changed in order to accommodate the return of all hybrid (A/B) students on April 19. Visit Skyward Family Access to verify your student's new route, stop, and/or times. Additional information is being provided by email and on our website News Feed.