2018-19 DRAFT BUDGET OVERVIEW
We are pleased to present an overview of the Blaine School District's draft budget of the year September 1, 2018 through August 31, 2019. The budget serves as a tool for planning and managing the District's activities. It also reflects, in financial terms, District goals and priorities. Formal adoption of the budget is scheduled for August 27th at the regular meeting of the Board of Directors. The draft budget may be revised prior to that date.
Each of the District's five funds accounts for the activities described in their titles. The general fund accounts for most District operations, including pupil instruction, food service, transportation, maintenance, and administration. The general fund has a projected beginning fund balance of $1,574,414. This represents the amount of District assets in excess of liabilities on September 1, 2018.
During the 2018-2019 year, we anticipate general fund revenues of $33,732,328 from sources including apportionment, taxes, and grants. Expenditures are expected to be $33,244,096. This amount is less than the anticipated revenues since the District plans to restore fund balance to the minimum level established in Board policy.
Revenue projections are based upon apportionment payments from the State that include enhanced funding for compensation levels as required by the McCleary,etal.v.StateofWashingtonSupremeCourtdecision. Inaddition,the 2018-2019 budget funds new initiatives to enhance student safety and address enrollment and caseload growth.
The 2018-2019 ending fund balance projection is $1,994,646. The District's fund balance represents resources available for unexpected events and cash flow considerations.
We have also included budget information for the Associated Student Body (ASB) Fund, Debt Service Fund, Transportation Vehicle Fund, and Capital Project Fund. Revenues and resources in these funds are considered restricted as to their use.
The Capital Projects Fund supports the ongoing construction work at Blaine High School, technology purchases related to the new Capital Levy, Birch Bay property acquisition, and construction of replacement grandstands.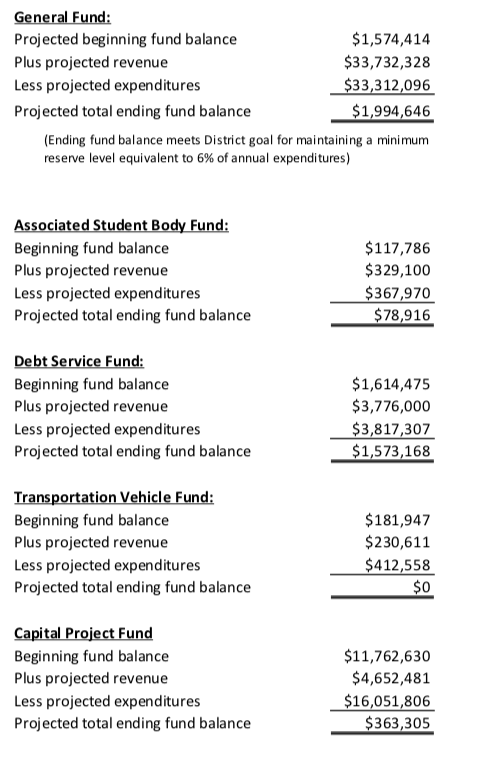 Four Year Budget Forecast
With the passage of EHB 2242 in 2017, School Districts in Washington State now must report a four year budget forecast. The budget forecast must display the cost to maintain District programs at current service levels.
For simplicity, the District's four year forecast is based on fixed overall enrollment levels of 2201.35 FTE, and staff counts of 161.653 certificated FTE and 99.516 classified FTE.
General Fund revenues are expected to decline in 2019-2020 with loss of K-3 class size enhancement funding, and loss of local levy collection capacity. Some of this decline is offset by additional State revenue for staff experience. Cost of living allowances and inflation increases in State funding and the levy will add revenues each year.
Annual expenditures increases beginning with 2019-2020 are based solely on cost of living and longevity step increases for employee wages. Cost of living rates are determined by the State.
The implications for the General fund are that without additional revenue sources or reductions to program expenditures, fund balance will erode entirely. State law does not permit a School District to budget an immediate upcoming fiscal year that ends with negative fund balance.
The Capital Projects Fund will generate revenues related to the passage of a six year Capital Levy with collections beginning in calendar year 2019, as well as State Funding Assistance. Non-voted debt issued to support near-term projects will be repaid through transfers to the Debt Service Fund beginning in 2020-2021.
The ASB and Transportation Vehicle Fund are projected to spend all revenues received during the four year time frame, and not accumulate changes to fund balance.