The School Board will hold a special meeting at 5pm on 12/7/21 to continue discussing the district's draft redistricting plan options. Click here to view the full public notice:
https://5il.co/12pak
The Blaine School District will be on a 2- Hour late start today November 29, 2021. Conditions vary across the district and we will continue to monitor the situation.

Applications for Bright K are being accepted through Nov. 30th. Bright K is a free, early entrance Kindergarten program provided at Blaine Primary School for children who are scheduled to enter kindergarten in fall of 2022. For more info and to apply;
https://forms.gle/jA6dc2pneMUR9gLA8



All Blaine School District locations will resume regular schedules and services on Wednesday, November 17, 2021. At this time no alternate bus routes are expected. Should conditions in the Ferndale area cause a closure to I-5 overnight (which is not anticipated), a school closure may be reconsidered. Any change would be announced by 6:30 A.M.

All BSD locations remain closed today, Tuesday, November 16, 2021. Please check our website, app or social media channels after 4:00 P.M. for information regarding a decision for Wednesday.

Out of an abundance of caution, school will be cancelled tomorrow, Tuesday, November 16th. While we did give consideration to a remote learning day, the potential challenges with electricity in some areas led us to the decision to cancel all school activities, including extra curricular, for tomorrow.

The School Board will hold a special meeting at 6pm on 11/22/21 to review and discuss a draft redistricting plan. Visit our News Feed article for details at this link:
https://www.blainesd.org/article/588166

Blaine School District Early Release 11/15/21 11:30 A.M. Due to drastic and rapid changes in road conditions, all Blaine School District campuses will be releasing students at 11:30 A.M. today in order to allow time for a safe return home. K-2 students who do not have an adult to receive them from the school bus will be brought back to the school until arrangements can be made for them. The same will apply for students who are normally parent pick up. Parents of Student Drivers: Please be aware that road conditions have changed dramatically since your student drove to school this morning. Any student who wishes may leave their car at school and take school transportation home. Our food service staff are working to be able to provide grab and go lunches for all students by 11:30.
Monday November 15 Bus 2 Change - Due to downed trees, Giles Rd students should plan on meeting the bus at either Giles and White Rd at 7:30 or Giles and Haynie Rd at 7:40.


REMINDER: Unity Care NW's Mobile Dental Programming is visiting Blaine Primary School on Weds., Nov. 3rd. Registration Form (English):
https://5il.co/10e9q
Registration Form (Spanish):
https://5il.co/10fcb

The School Board will hold a special meeting, in executive session, at 6pm on Monday, October 25. The purpose of the meeting is to consider the employment or dismissal of personnel. Click here to access the full public notice:
https://5il.co/10w4f


Please be prepared for your student's bus route to be a few minutes later than usual between now and the end of next week as each route performs an actual safety drill. Students are directed to evacuate the bus and also learn about all things safety on their bus. Thank you for your ongoing support in keeping our buses the safest way for students to get to and from school!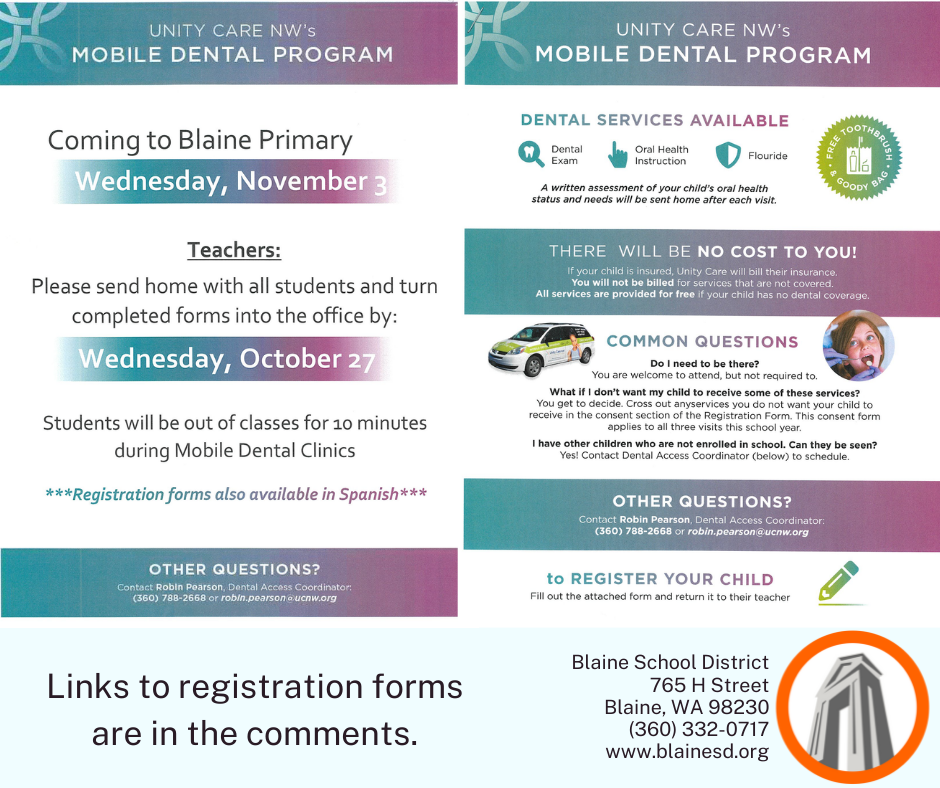 Our next Facility Use Meeting is this Monday, October 4th at 6 P.M. in the Board Room. (Roundhouse building, next to the district office.)

Agendas for the School Board's special and regular meetings on Monday, September 27, are now available in BoardDocs. Links to observe the meetings will be available no later than Monday and can be found on the "Meetings" tab in BoardDocs as well as on the district's events calendar. BoardDocs link:
https://go.boarddocs.com/wa/wabsd/Board.nsf/Public

The School Board will hold a special meeting, in executive session, at 6pm on Monday, September 27. The purpose of the meeting is to review the performance of a public employee. Click here to access the full public notice:
https://5il.co/ziyx