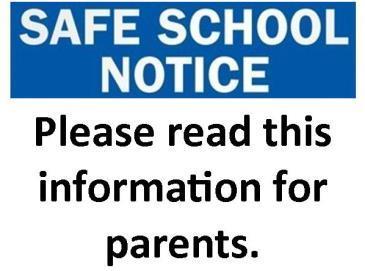 Blaine Police and High School Administration Surface Evidence of Threats to School
Blaine School District
Thursday, May 16, 2019
On Wednesday, May 15, a Blaine High School student refused to follow a directive from administrative staff, and ultimately physically assaulted (punched) a campus supervision employee. Blaine Police responded, and the student was taken into custody where the student remains at this time.
Late Wednesday evening, the Blaine Police Department was made aware of concerns that were surfacing on social media indicating that this student had previously made comments to peers about wanting to "shoot up the school". As the student was in custody, and no credible threat had been verified, the Blaine Police informed District administration that they would be following up on Thursday (today) with the student, the family of the student, and also students at Blaine High School who may be able to verify having heard these comments. The fact that the student is being detained at this time precluded the need for a general announcement until further investigation into this matter was completed.
This afternoon, the Blaine Police Department and the High School administration, after talking with several students, concluded that this student had indeed made threatening comments specific to "shooting up the school". As such, additional charges have now been filed. The student will remain in custody for a yet to be determined amount of time. It should also be noted that this student was not in the possession of any type of weapon.
We are grateful to the Blaine Police Department for their support in this process. The safety and well-being of students, staff and patrons remains our primary concern.