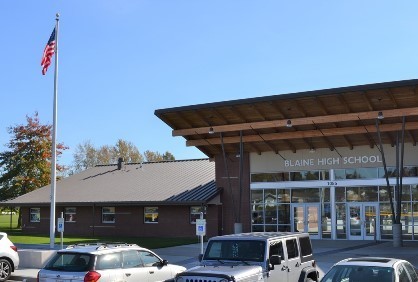 Completion of Blaine High School's Core Facility
Blaine School District
Tuesday, October 15, 2019
At about the same time that the Class of 2020 was entering kindergarten, planning for a new high school facility in Blaine got underway. As those same students began their senior year of high school, at the beginning of the 2019-2020 school year, the new facility was finally completed. After failed bond initiatives in 2008 and 2011, voters overwhelmingly supported the passage of bonds in 2012 and 2015 which included funding to make this goal a reality. We are so thankful to the voters of Blaine School District for supporting the construction of this state-of-the-art facility on our high school campus.
Blaine High School now has the ability to provide students and staff with a safe, responsive, adaptive, and inspiring facility that will serve to support both individual and collective teacher and learner needs and interests for decades to come. Continuity of the program is improved, as high school students will no longer need to leave their facility to eat lunch and attend classes that were spread out in other areas of the campus. The new facility includes a single public entry point for increased security. Aging and inefficient heating and ventilation systems have been replaced, and new infrastructure will support 21st century technology requirements. In addition to the increased and renovated classroom spaces, students now enjoy the benefits of a new cafeteria, new band, choir, and art rooms, a small theater, CTE shops, a culinary arts classroom, tennis courts, a new greenhouse, a renovated library, and updated offices.
Blaine School District students and staff recognize the extensive level of community ownership and involvement that is in place at all levels of our program, and we remain greatly appreciative of this support for the ongoing growth and success of all students. Patrons and families from Blaine, Birch Bay, and Point Roberts are invited to attend a Community Open House on Friday, October 18, at the new entrance at 1055 H Street. Blaine School District will formally dedicate the new high school with a ribbon cutting ceremony at 5:00pm, followed by refreshments and tours of the new campus. We hope you will join us for this important celebration!