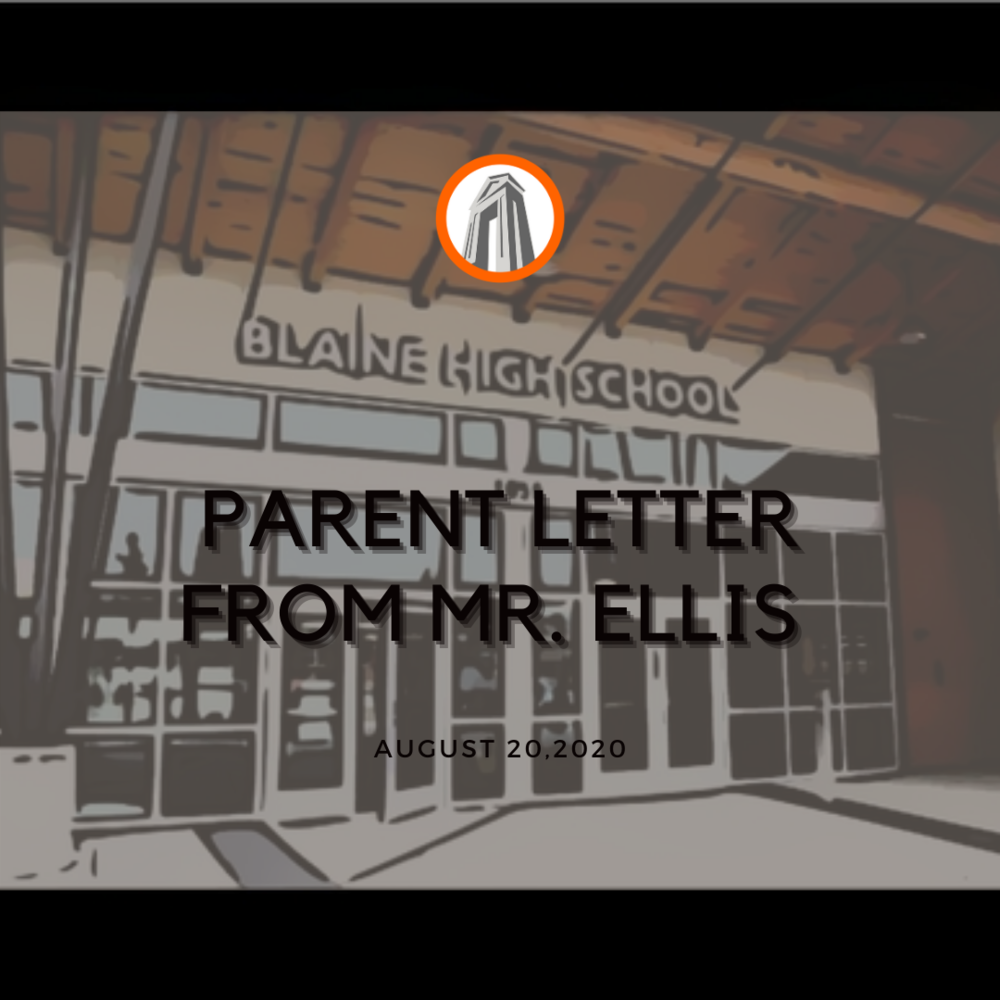 Letter to Parents and Students from Mr. Ellis
Blaine School District
Thursday, August 20, 2020
BLAINE HIGH SCHOOL
August 20, 2020
Dear Parents, Guardians and Students:
Welcome to the 2020-2021 school year. I would like to thank you for your continued support and commitment throughout this unique time. Blaine High School's administration and staff have been working hard to ensure that students have access and support during this year. While we would all like to be in classrooms in the building, our dedicated teachers will ensure that every student is receiving quality instruction, in whatever learning model we find ourselves in.
Starting on August 26th at 8:20 A.M. students will meet with their teachers daily, Monday-Thursday, in periods 1-5, via Google Meet. I have attached a daily time schedule, along with Google Meet login instructions, and a class nickname sheet, which also includes office hours nicknames. This will guide students on how to attend classes virtually with their teacher. This is known as Synchronous learning, where class and communication happen in real time. On Fridays, students will participate in Asynchronous learning by completing independent assignments provided by each teacher. Asynchronous learning is where students participate at different times and engage via Google Classroom and not in a live Google Meet.
Students also have a 6th period digital elective class. Students are required to check their 6th period Google Classroom regularly for assignments but will not meet on a daily basis. This course will be done via Asynchronous learning.
All classes will only be accessible through the student's Blaine School District Google account.
Students will be able to login with the same credentials as last year. Student Usernames are generally First Name.Last Name and Passwords are available, if forgotten, by contacting Phil Wilson at pwilson@blainesd.org. He is available to help with any login difficulties. We suggest that everybody login to their Blaine Google student account as soon as possible to ensure readiness on the first day of school.
Teachers will be available two times daily via Office Hours to connect with students and parents to answer questions outside of class time. The afternoon office hours are from 1:50 pm-3:00 pm Monday-Friday. The morning office hours are from 7:50 am-8:15 am Monday-Thursday.
Students in 10th- 12th grade had the opportunity to schedule classes. 9th grade student schedules were generated according to their spring pre-registration requests. Core classes in English, Math, Science, etc. are set and cannot be changed. The only exception would be an incorrect placement. An example of this would be; a student is scheduled in Algebra but they should be in Geometry. Students may change elective choices if classes are available. Most 9th grade students will take 6th period Digital P.E. Please email Jed Decker at jdecker@blainesd.org (Last Names A-K) or Julie Strain at jstrain@blainesd.org (Last Names L-Z) to inquire about an elective change. Scheduling changes will be allowed through 3pm Tuesday, September 1st. Schedules will be set and available via Skyward family access no later than 12:00 pm on Sunday August 23rd.
New Student and 9th Grade Orientation will be Monday, August 24th at 6:00 pm. The link for the meeting is https://zoom.us/j/91712353016?pwd=Q1FGU1VxekQwTytNNmhLRXl4N2hVUT09 and can also be found on the High School Website or via District Social Media outlets.
We are looking forward to seeing everybody on the first day of school. Please don't hesitate to call our office at 360-332-6045 or email me and the other building administrators at scott_ellis@blainesd.org, wvezzetti@blainesd.org, and dcottnair@blainesd.org if you have any questions or concerns regarding your student's education. We are here to help and are anxious to get started on the 2020-2021 school year.
Sincerely,
Scott Ellis, Principal
Blaine High School
Continuous Learning 2.0 brings us all new terms teachers and students will use on a regular basis. I have listed them here for your information.
Google Waffle - the 9 square grid on the top right of the google screen

Google Classroom - the virtual classroom where teachers and students assign and turn in assignments and assessments

Google Meet - the virtual online classroom where students and teachers interact live (google.meet.com)

Google Meet Nickname - the code, or nickname, students will use to login to their lives sessions on Google Meet

Synchronous Learning - Students learn at the same time

Asynchronous Learning - Students learn at different times
How to Login to Google Meet:
Go to https://meet.google.com/ either by typing in the URL or via the Google Waffle

Click "Join a Meet"

Type in your classroom nickname and hit "continue"

Turn your video and microphone off by clicking the camera and microphone images on the video preview and click "join now"

Your teachers will indicate when they want your video and microphones on.

See below for your Class Meet Nicknames