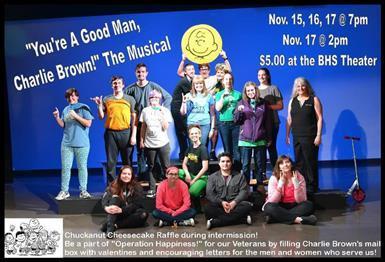 Just a Day in the Life of Your Average "Blockhead"
Blaine School District
Wednesday, November 07, 2018
Parents and patrons in the community are invited to join Snoopy, Charlie Brown, Lucy, Linus, Sally, Schroeder and the whole PEANUTS gang in our new High School Little Theater as the Blaine High School Drama Club proudly presents the comedic musical, "You're A Good Man, Charlie Brown!" based on Charles Schultz' beloved comic strip. There are only four shows, including November 15, 16, and 17 at 7:00pm and a matinee on November 17 at 2:00pm. Graduating seniors will be featured in the "Peanuts Cast" at the evening performances on November 15 and 17. The "Red Baron Cast" will feature our underclass students in the evening on November 16 and at the matinee on November 17. In honor of Veterans Day, audience members will have an opportunity to participate in "Operation Happiness" by writing a letter of encouragement and helping to fill Charlie Brown's mailbox with valentines and letters for the men and women who are serving our nation. Tickets are just $5 at the door, and there will be a Chuckanut Cheesecake Raffle during intermission. Be sure to join us in the High School's new theater as we enjoy another excellent performance by our drama students.