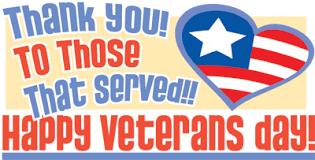 Thank You Veterans!
Blaine School District
Thursday, November 08, 2018
In observance of the upcoming Veterans Day holiday, a variety of educational activities are taking place this week throughout our campus. Blaine Primary School students have been participating in a variety of literacy activities, including reading about military service, writing thank you notes, and making a "Hero Sandwich" book. The Elementary School's annual assembly takes place in the PAC on Thursday, November 8, at 1:30pm with student presentations and recognition of Veterans both in a slideshow as well as in person. An assembly will also take place in the morning on Thursday for Blaine Middle School in which students will pay tribute to veterans with a presentation, a video, and a band performance. On that same date at Blaine High School, students will view a video tribute to veterans during their BUILD classes. And, during the High School Drama Club's performances next week, audience members will be invited to write thank you cards and notes of encouragement to military service members as part of "Operation Happiness". Throughout Blaine School District, we are honored to recognize the significant contribution of the men and women who have served, and are serving, in our nation's military. We thank you for your sacrifice!